The Go Zero recycling programs are partnerships with various companies, offering specialized recycling solutions for their products.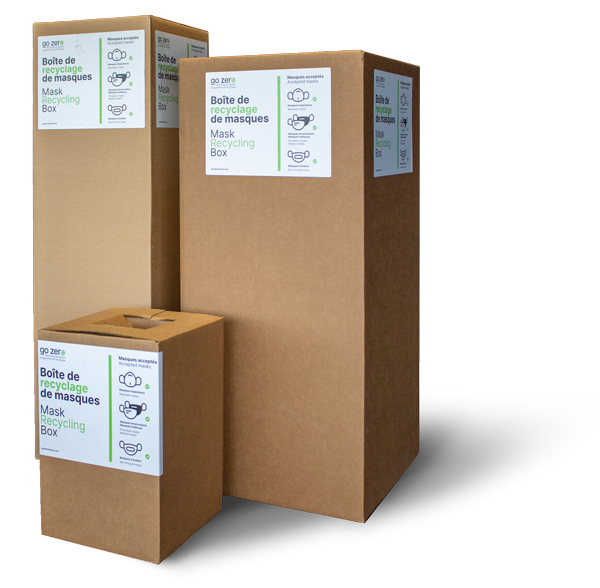 The Go Zero Recycling Boxes allow you to easily collect and recycle different products and materials. You can also choose a box that can contain different articles in the same container.
Safe.
Green.
Simple.
Affordable.

From an environmental and social issue to a circular economy solution.
The innovative Go Zero program recycles different types of products that can't be recycled through regular recycling. We recycle these products and transform them into recycled material which is then used to create new products.
Depending on the return option you chose, ship or drop off your box at one of our depots.
Follow your material's journey with our RealCycle traceability feature.
How the mask recycling works.

We receive your masks at one of our depots.

All masks are disinfected after 7 days in quarantine.

Our teams separate all three parts of the mask : elastics, nose clip and filter.

The masks are shredded into convertible materials.

The materials are used to create new recyclable and useful products.
Click here to learn more about the mask recycling process.
1388 Cliveden Ave. Delta (BC) V3M 6K2, Canada
2000 Drew Road, Mississauga (ON) L5S 1S4, Canada
5353, Thimens Blvd,
Saint-Laurent (QC) H4R 2H4, Canada
Depot and Material Treatment Center
2221 Rue Tanguay, Magog (QC) J1X 7K3, Canada