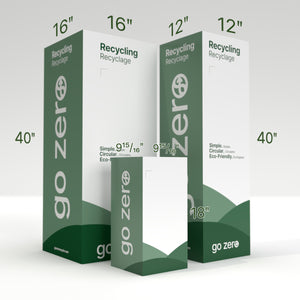 Signage
Regular price
Sale price
$17.49
---
Products that you can recycle

With this recycling box, you will be able to recycle all types of plastic signage such as:
Election signs

Event signs

Coroplast signs

Banners

Cor-X

Corrugated plastic signs

Poly bag yard signs
* Tips to improve the circularity and the quality: remove screws, bolts, wood frames or zip-ties from the signs. A clean and well-sorted input of products allows for a high quality and high circularity of the end material. 
Impacts
Recycling has an enormous positive impact on our environment; one ton of recycled plastic saves 5,774 Kwh of energy, 16.3 barrels of oil, 98 million BTU's of energy, and 30 cubic yards of landfill space.
By doing business with Go Zero, you directly reinforce positively our communities by our partnerships with social and environmental organisations.
Included
One Go Zero labeled container.
Instructions for use.
Treatment, recycling and reconversion of materials at our facility.
Full circular economy recycling solution with proven sustainable positive impacts on our environment, our communities and our economy.
RealCycle traceability program and recycling certificates provided by email.
Customer service and technical support.
Operation
Order the most convenient size of Go Zero recycling box for your location.
Select the shipping and return option that suits your needs.
If you selected the free pick up option at one of our location, please allow 48h before presenting yourself at our facility to pick up your box.
If you selected the shipping option, your recycling box will be shipped in the following 48h by UPS Carbon Neutral.

Once you receive your recycling box, assemble it, insert the transparent plastic bag inside and position it so it can be visible and easily accessible to facilitate recycling. If you selected a carton box, please protect it from rain.
Collect eligible materials.
When the recyling box is full, seal it tight, and drop it off at one of our locations if you didn't select our prepaid return option.
If you selected our prepaid return option with UPS Carbon Neutral, please contact UPS at 1-800-PICK-UPS to schedule a pickup. Note that your prepaid return shipping label will be already attached on your recycling box and this label is valid for a maximum of 3 months from the date of purchase.
Then, to continue recycling with Go Zero, you will need to reorder a new recycling box.
Once your products are fully recycled in full circular economy, our RealCycle traceability system will automatically email you a recycling certificate which will certify the weight of recycled material and the positive impact it generates.
Recycling Process

Collection: This is the part in which you are directly involved. By participating in a Go Zero recycling program, you directly contribute to the collection of recyclable materials. Please make sure the recycling box is visible and that the participants deposit only the allowed products. This will greatly increase the efficiency of the recycling process and the quality of the new raw material made from your recycled products.

Receiving: Once we receive your recycling box, via prepaid return or if you drop off your box at our location, the box will be scanned to record it in our RealCycle traceability system. If the box requires quarantine or decontamination,  these steps will be done prior to the following steps.
Sorting: As soon as the box is ready to be sorted, our different teams will sort the content of the box with the help of different techniques; manual, density, optical and IR scanning.
Separation: Since the recycled products are made of different types of materials, our production lines and machines will separate and shred the different materials that compose the products. Different types of plastics, metals, papers and other materials will be separated to increase their recyclability. If required, the content will be washed in our eco-friendly washing and material cleaning plant. This is always to maximize the quality of the raw material produced at the end of our process; the higher the quality of the material, the greater its circularity and usability. 
Reconversion: At this step of the process, we are converting the high quality new recycled raw material into a new form that will be used by manufacturers. To do so, Go Zero and its partners are extruding plastic into new plastic pellets, compounding diverse materials, shredding wood and paper in fine particle, melting glass into cullet, melting metals into ingots, composting bio materials, reusing materials for a alternative usage, and more.  
Certification: Once your products are fully recycled in full circular economy, our RealCycle traceability system will automatically email you a recycling certificate which will certify the weight of recycled materials and the positive impact it generates.
Circularity: Go Zero is providing recycled raw material to certified manufacturers selected through a list of criteria such as; proximity, sustainable manufacturing process, benefits for communities, eco-designed products, recyclable products, useful products. 
New products manufactured from this recycled material
Reusable plastic food containers

Agricultural films and fruits and vegetable protector
Playground equipment and turf
Durable furniture
And much more!
Notes

For large quantity of material to recycle, use the

 

Recycling Pallet Bags

 

container option with our

 

Large Volume

 

shipping options in the

 

Services

 

section.
We cannot ship or pick-up at a PO Box, only physical addresses.
For pallet size containers, you must send us a pick-up request by email so we can arrange a truck to pick up the material.
For pallet deliveries and pick-ups, your facility must be equipped with a leveled loading dock for 53' trailers. You must be also equipped with a jigger or forklift to load and position the pallet in the trailer.
Please secure carefully the container before shipping to make sure that there are no risk that the box collapses during the transportation.
Do not hesitate to contact us for any additional information.